The Daily | Once Daily Softgel to Support Healthy Inflammation & Stress Response*
Clinically proven to reduce stress, improve mood, sharpen focus and improve sleep quality.*
Regular price

Sale price

$35.00

RESULTS, GUARANTEED. 30 days to try it & love it, or we'll make it right.
BENEFITS

Find your calm and focus, manage everyday stress and feel better with organic hemp CBD. Doctor-formulated and designed to activate, align and balance your natural body systems to better support stress, sleep, recovery, mood and immunity.* Take daily for better days.

An independent clinical study showed The Daily significantly improved participants' ability to deal with stress — with results in as little as 1 week.

100% would recommend to a friend or family member
75% experienced improvements in mood
69% felt less stressed
69% reported feeling calmer
67% woke up more refreshed

*Based on an independent clinical study of 36 participants after one softgel a day for 60 days

Size: 1 softgel per serving | 30 softgels per bottle

Note for subscriptions: Your first order will contain the full-size jar of The Daily. The second delivery and thereafter will contain a refill pouch.
INGREDIENTS

25mg Organic Hemp CBD per Serving: Meticulously extracted broad-spectrum hemp rich in naturally occurring CBD, terpenes and polyphenols to support balance and overall wellbeing*
Black Pepper Berry Oil: Natural source of the bioactive compound piperine, which has been shown to support bioavailability of ingredients within formulations, helping to make certain herbs more easily absorbed by the body
Turmeric Oil: Contains curcuminoids, which offer potent antioxidant benefits, and are more easily absorbed when combined with piperine
Clove Bud Oil: A natural source of phenolic compounds including eugenol, an antioxidant that is well known for its characteristic pleasant aroma

Responsibly made in the United States with thoughtfully sourced global materials.

FULL INGREDIENT LIST

Ingredients:Organic Broad Spectrum Hemp Extract (aerial parts) with naturally-occurring cannabidiol (CBD), Bio-Terpene Complex (Palm Monoglycerides, Organic Hemp Seed Oil, Clove Bud Oil, Black Pepper Berry Essential Oil, Curcumin (Turmeric Root) Essential Oil)

Other Ingredients:Organic Flaxseed Oil, Gel Shell (Modified Tapioca Starch, Glycerin, Purified Water, Maltitol)

100% CLEAN COMMITMENT

Consciously formulated without:wheat, tree nuts, peanuts, eggs, soy, dairy, artificial colors or artificial flavors.
WHEN TO TAKE

Think of The Daily as your daily vitamin for ECS (Endocannabinoid System) support. Just like how you take Vitamin C to support your immune system, consistent use of The Daily helps your ECS regulate your body's natural inflammatory and stress response — so you can better manage stress and feel your best.

Consume first thing in the morning or as needed during the day. Best when taken daily.

Suggested Use: Adults take one softgel up to twice daily.

As with any dietary supplement, consult your healthcare provider prior to use, especially if you are pregnant, nursing, take medication on a regular basis or if you have a medical condition.

Do not use it if the foil seal is broken.
Keep out of reach of children.
Store in a cool dry place.

Good for Stress

Good for Recovery

Gluten Free

Non-GMO

Lab Verified

Non-Intoxicating

Broad Spectrum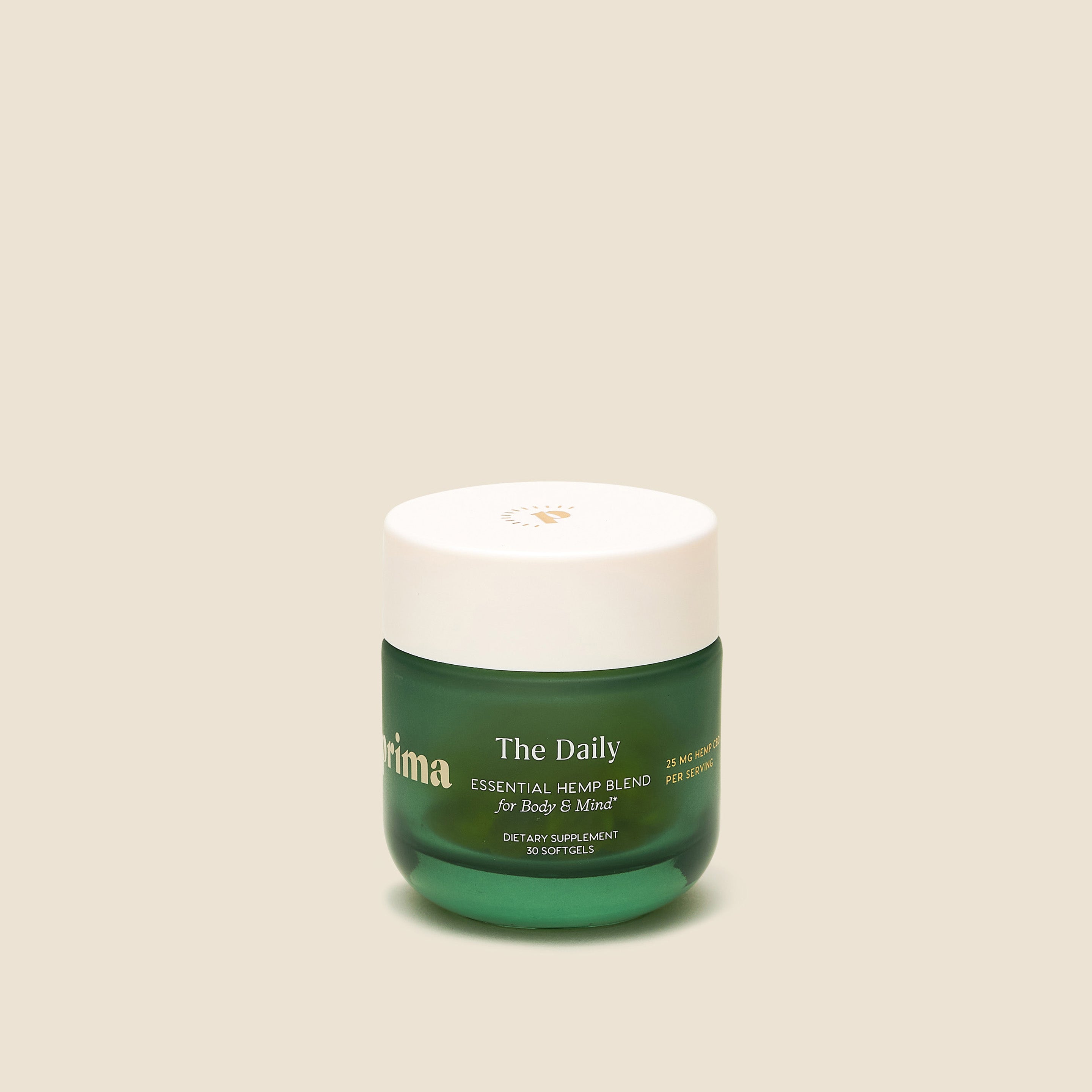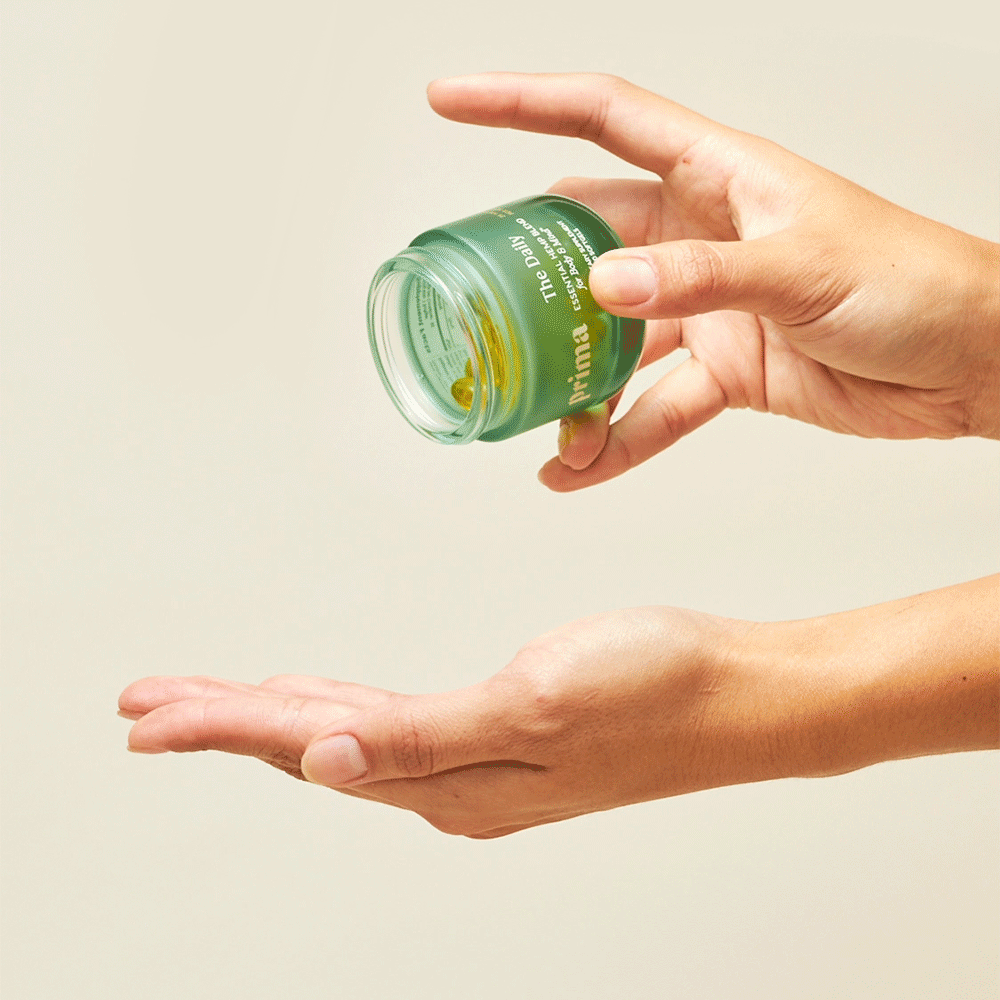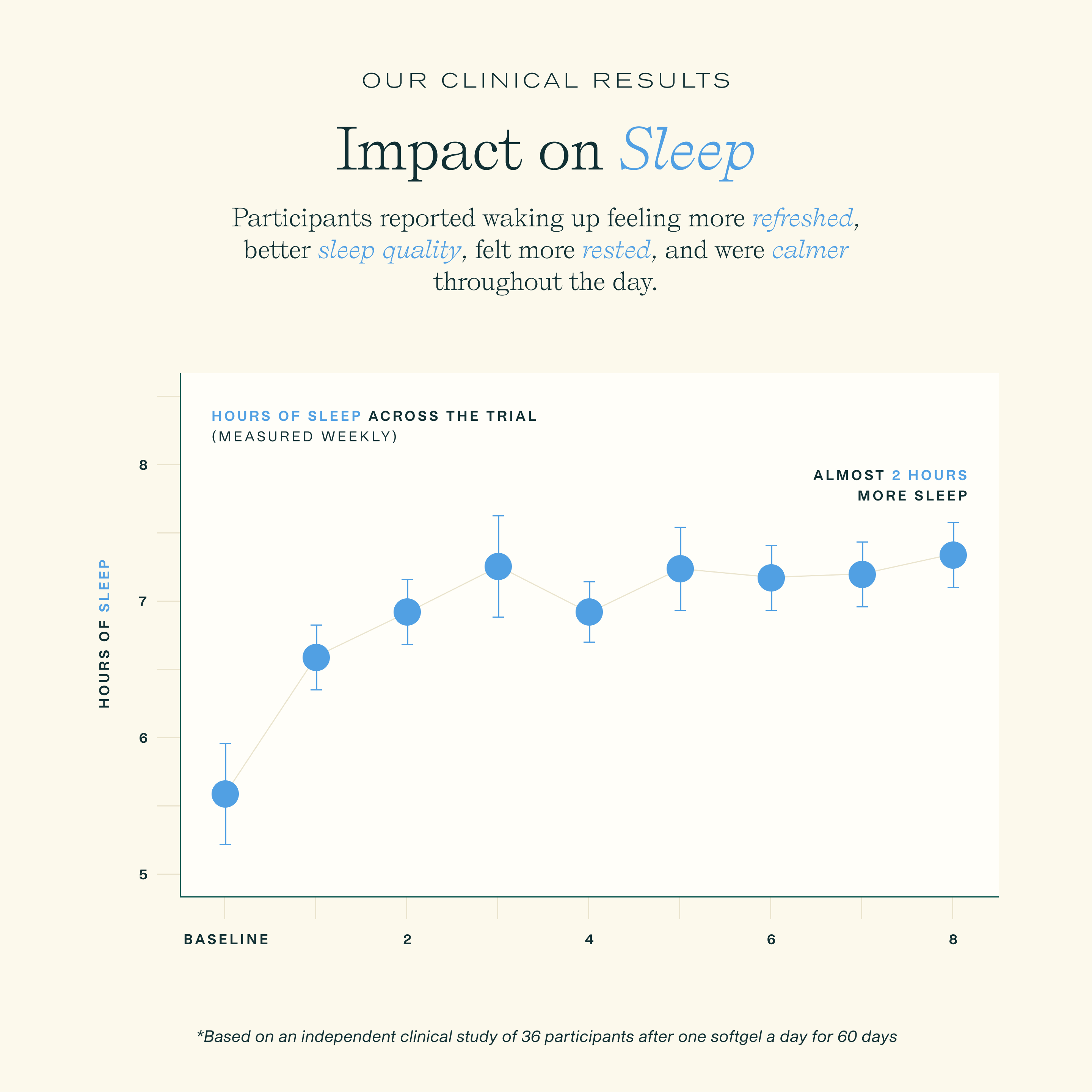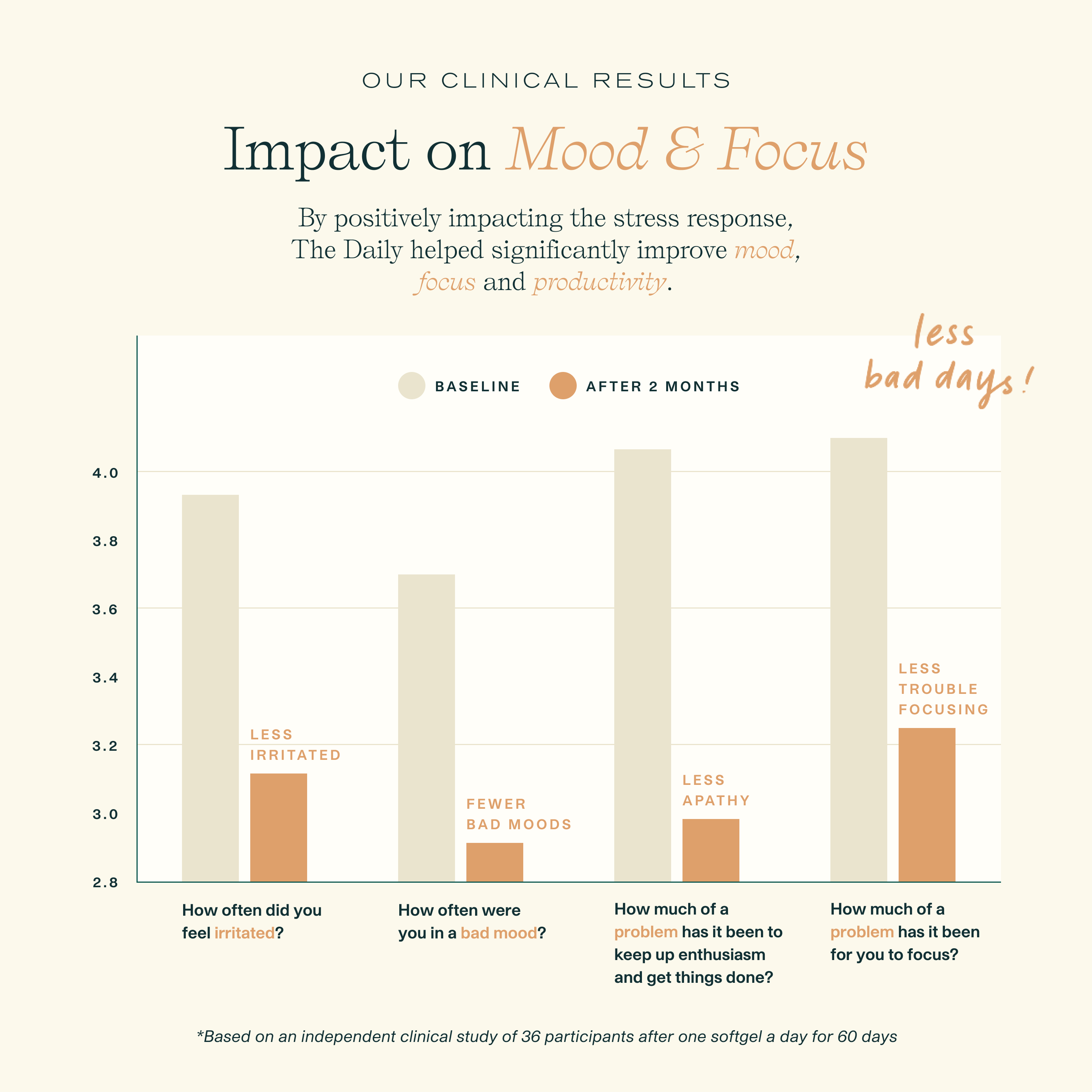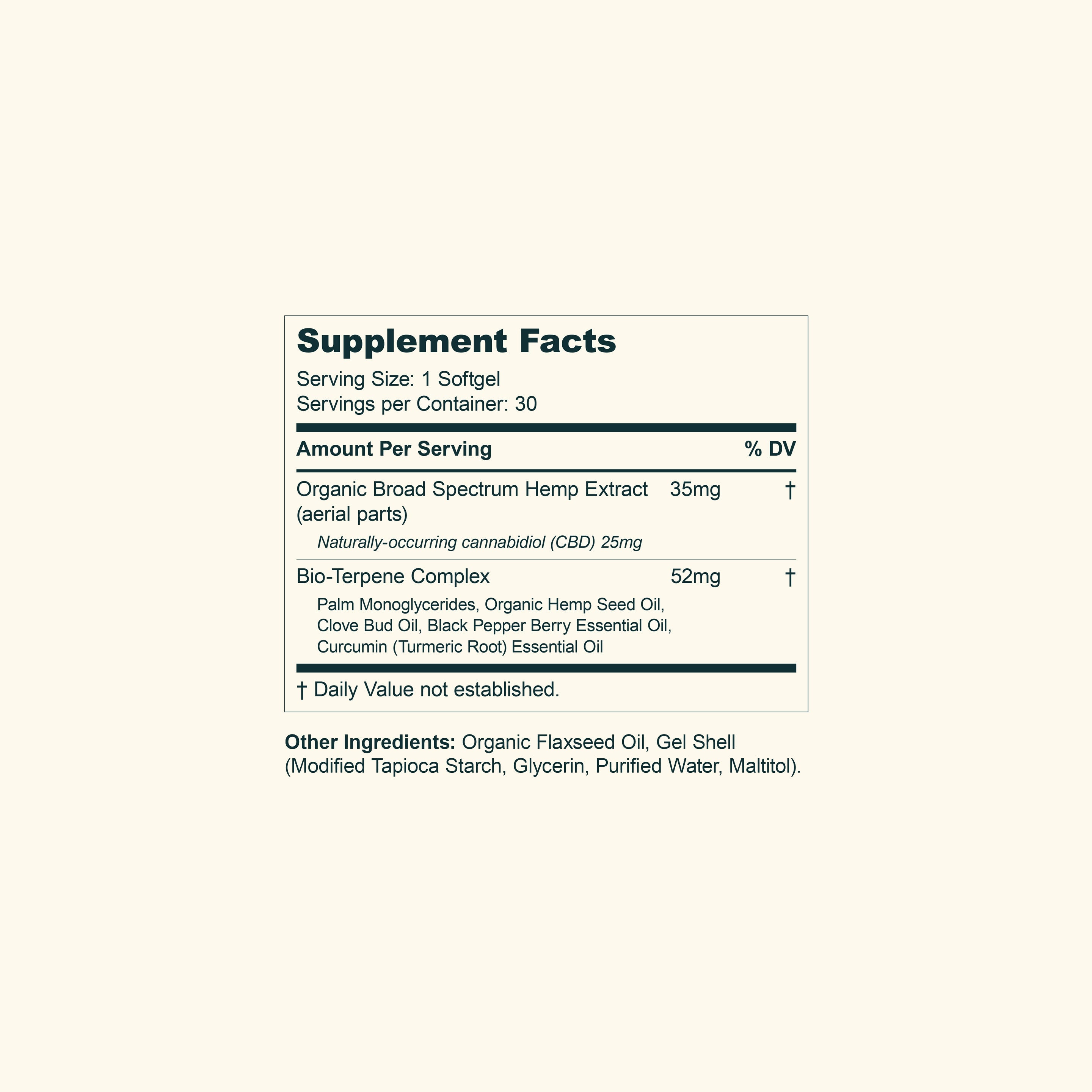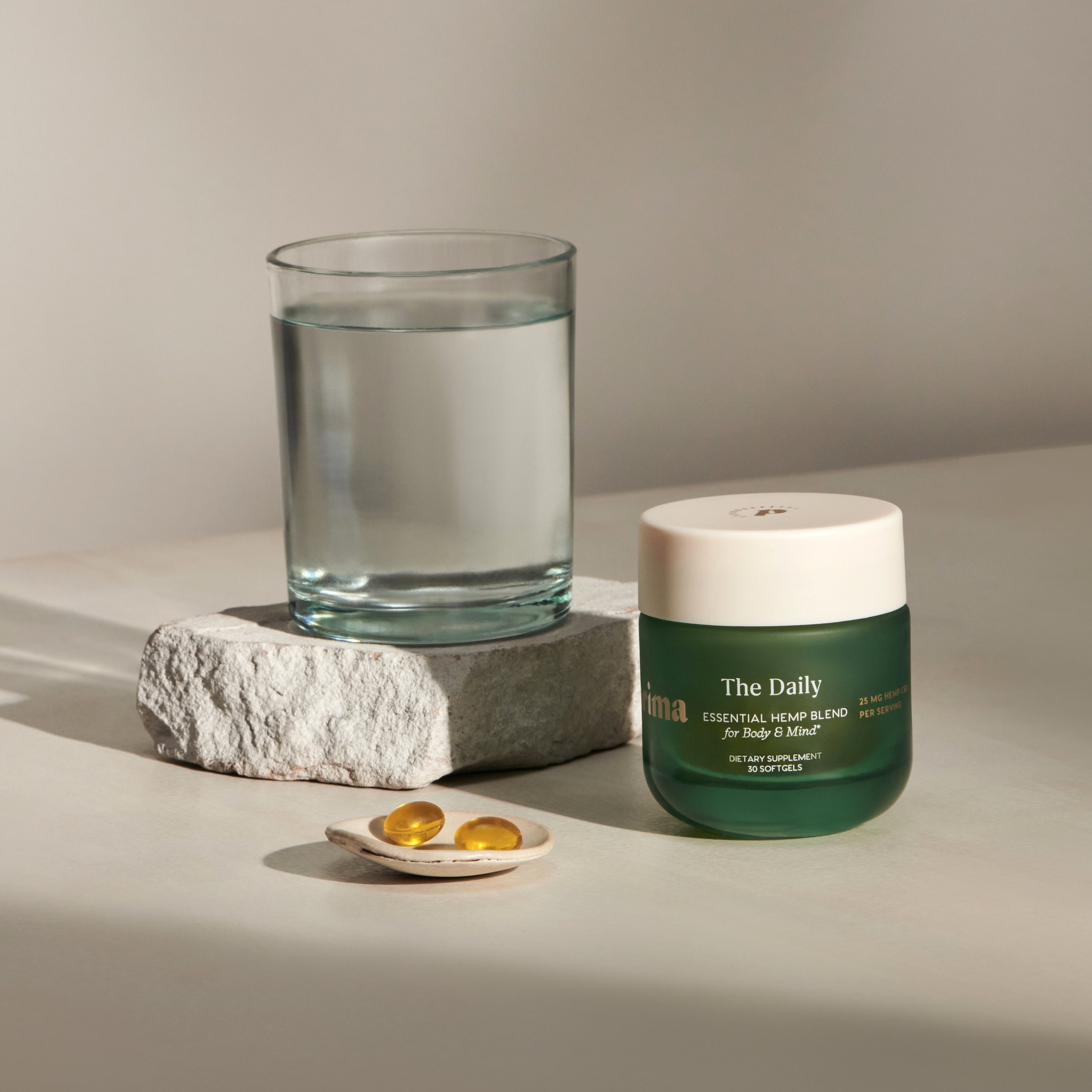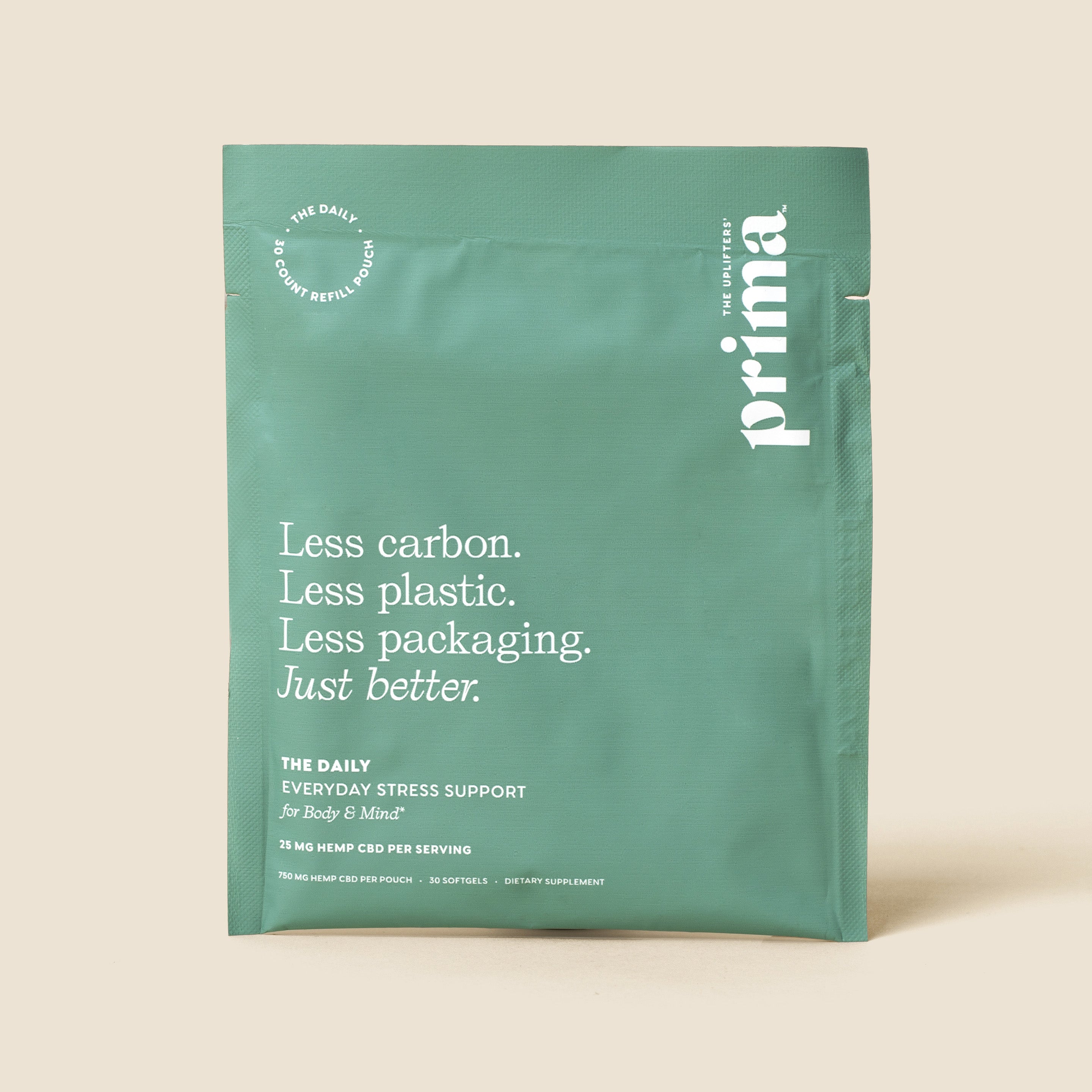 DISCOVER MORE
WHAT IT IS

Vegan, water-soluble softgel with organic CBD optimized for better absorption and bioavailability
Proprietary microencapsulation process and specialized bio-terpene complex of clove bud, black pepper and curcumin oils help to deliver the cannabinoids more efficiently and effectively than traditional hemp oils and tinctures
Consistent 25mg serving — no measuring needed
Made with organic broad-spectrum hemp extract with naturally occurring cannabinoids, terpenes, polyphenols, flavonoids, and sterols for entourage effect
Promotes a sense of calm and balance for improved focus*
Supports healthy inflammation response*
Aids in recovery from exercise and demands of active lifestyle*
Helps to maintain healthy immune function and sleep cycles*
Supports your body's Endocannabinoid System (ECS) which helps regulate your natural inflammatory response, stress response, immune function, and sleep cycle so you can better manage stress, burnout, irritation, and discomfort.
Take daily — consistency is key for best results.

PACKAGING SUSTAINABILITY

Jar: 25% recycled glass
Cap: Recyclable polypropylene (#5) and foam
Liner: Recyclable fluted cardstock
Box: FSC-Certified card stock (harvested from trees located in responsibly managed forests)

Recycling Instructions: Separate and flatten liner and carton; place in curbside recycling bin. Print free shipping label and send jar and cap to be fully recycled through our Recycle for Real mail-back program.

Certified Plastic Negative: This product has a negative plastic footprint. Prima removes twice as much plastic waste from the environment as we use in our packaging.

BATCH RESULTS (COA)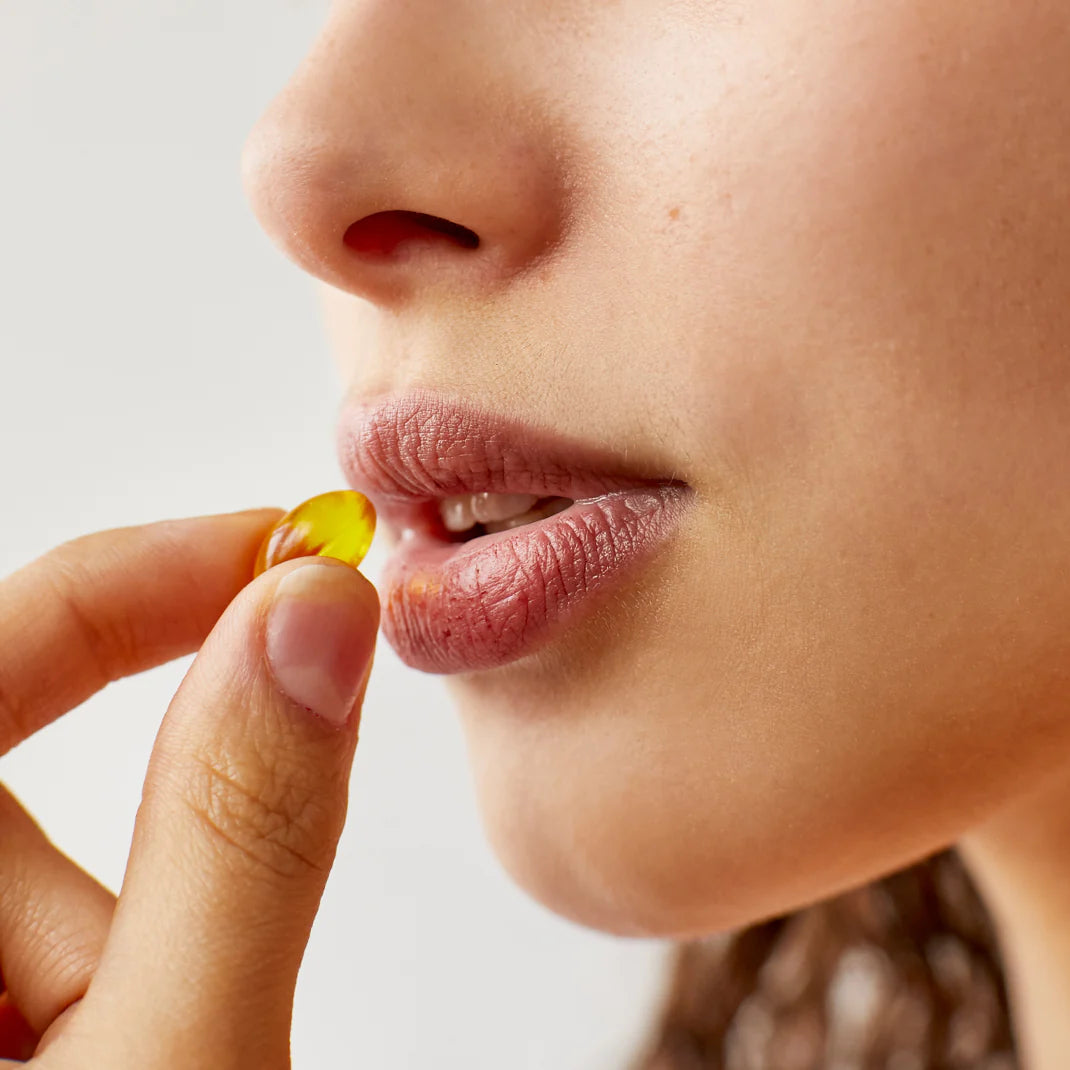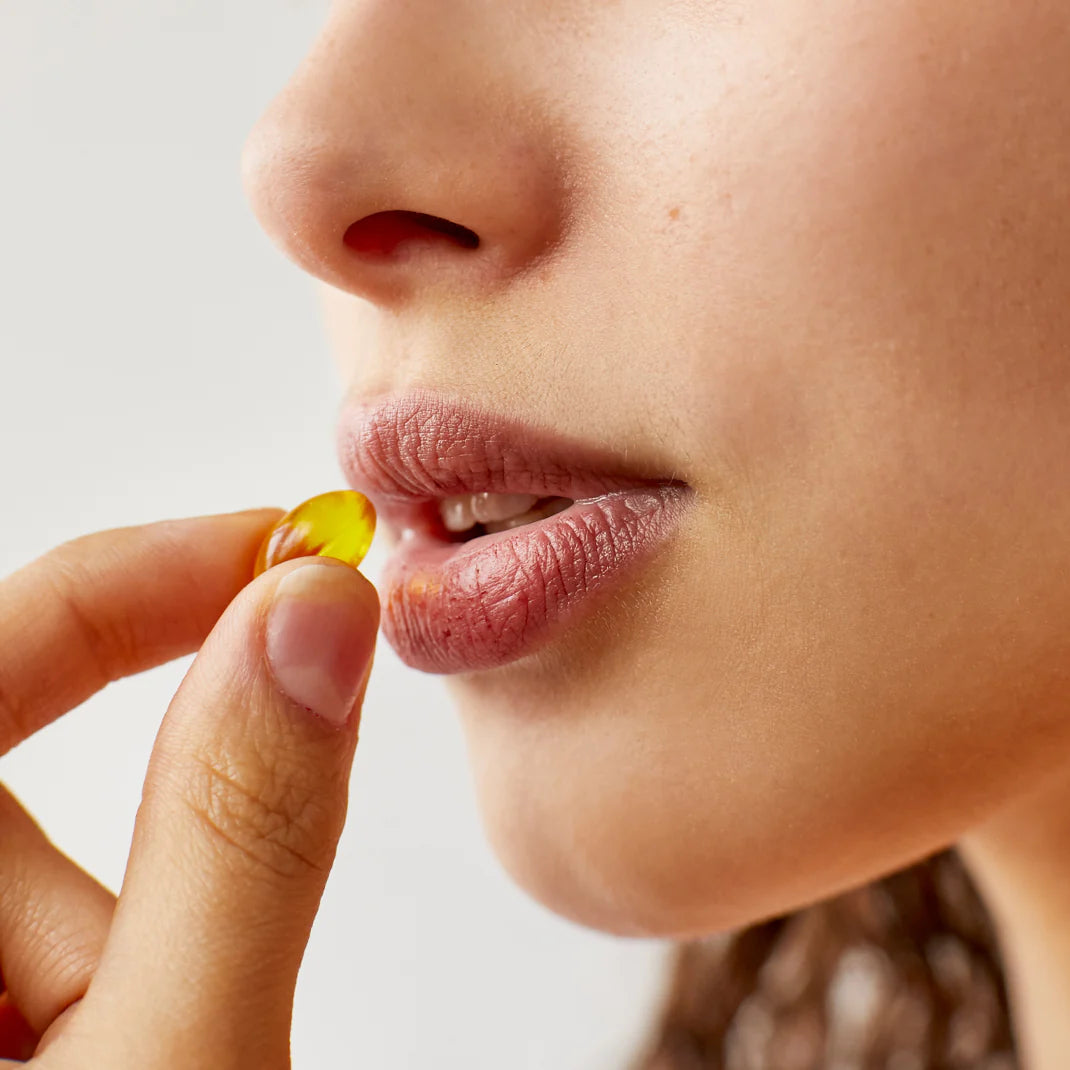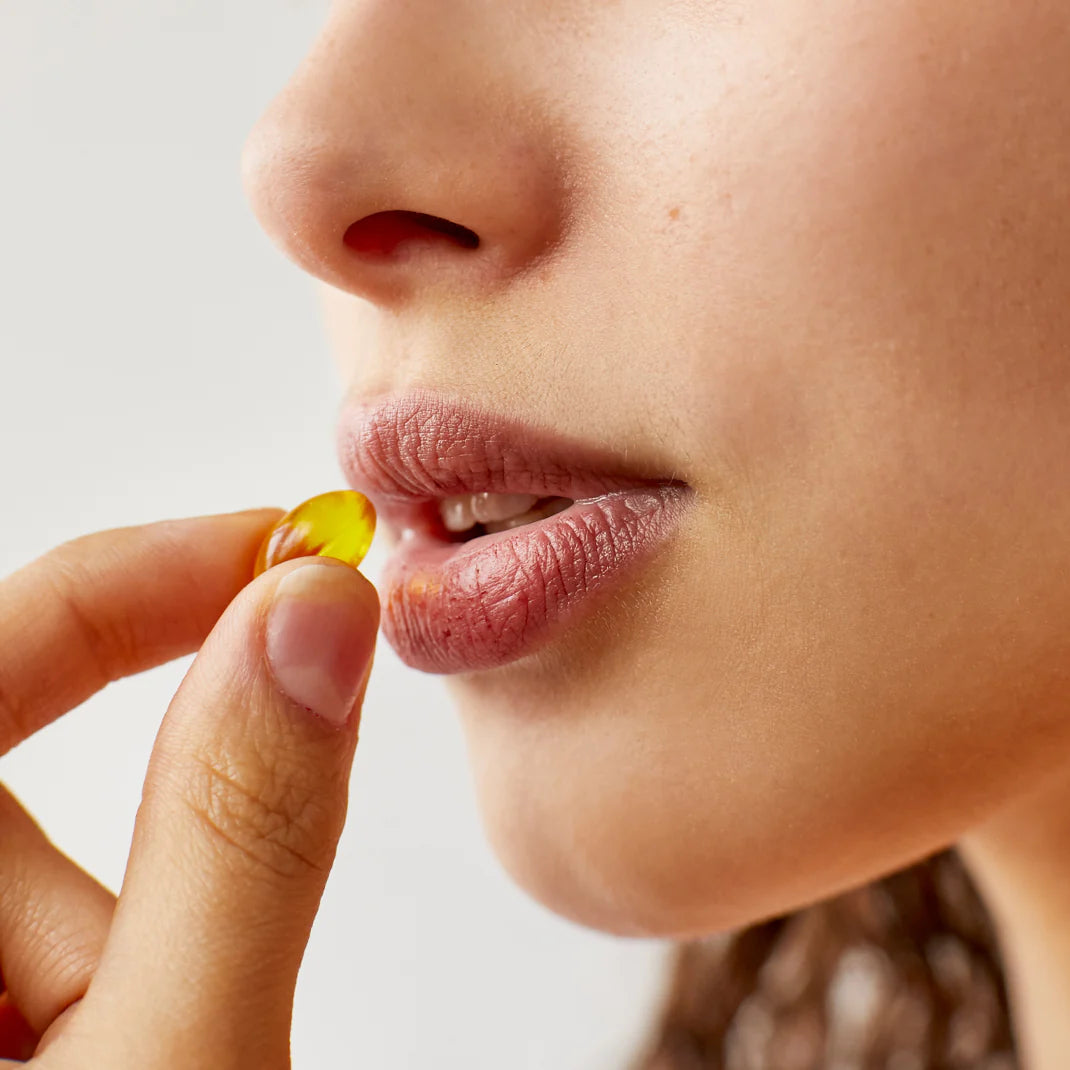 TRUSTED & LOVED
"One-a-day that I can't live without..."

I find myself staring at the stars more, catching myself soaking up the moment when I've been taking it regularly.

CHRISTIANNA L.
"I'm shocked by how much better I feel..."

I started taking the Daily every morning for stress. I'm shocked by how much better I feel.

AMANDA L.
"I'm addicted..."

I'm addicted. I take this like I take my multivitamin. Can't live without it.

BRITTNEY K.
FREQUENTLY ASKED QUESTIONS
What are the benefits of a CBD oil supplement?

Our Daily CBD oil supplement supports relief, balance, and total body and mind wellness by supporting the endocannabinoid system — the body system that creates homeostasis.* As with most products, results are individualized but most people report a subtle yet powerful impact. When considering CBD oil capsules like The Daily, ask yourself: Do you like balance, bliss and zen? We thought so 😉
Do your CBD capsules contain THC?

We pride ourselves on creating premium products that you can trust, and transparency is one of the most important ways for us to build that. Our hemp is grown in Oregon and is registered with the Oregon Department of Agriculture. Our CBD capsules (and all of our products) contain less than 0.3% THC, but we additionally process our extract to remove qualifiable levels of THC. Not convinced? We make all of our testing on our finished goods publicly available via batch code lookuphere.
What's the difference between CBD oil capsules and CBD oil tinctures?

CBD and cannabinoids are oil-based compounds. Our body is made up of mostly water (up to 95%) and oil and water don't easily mix. So if you think about ingesting CBD orally in an oil-based format, it's not the most bioavailable because your body can't access a lot of the benefits that oil has to offer. That's why we microencapsulated our Daily CBD oil capsules in a water-loving system that allows it to be absorbed like water, so that your body can absorb more of it. AKA: it's designed for you to get more out of that milligram than through a standard oil-based tincture.
Can I take CBD capsules every day?

Yes, in fact, we named our CBD capsules "The Daily" for a reason! Balance is achieved when self-care is practiced consistently — so for the most impactful results, we recommend taking your CBD capsule daily. But as with all supplements, we suggest that you consult your physician when adding a new ingredient to your regimen.*
Can I get high from CBD?

No, our CBD won't get you high. Our hemp is grown in Oregon and is registered with the Oregon Department of Agriculture. Our CBD capsules (and all of our products) contain less than 0.3% THC, but we additionally process our extract to remove qualifiable levels of THC.
How many milligrams of CBD should I take?

We found 25mg of CBD to be the most versatile, meaningful single dose depending on an individual's needs. Our philosophy around efficacy means solving for optionality and choice. Everyone's system is different, and there's no standard amount of CBD that works for everyone. Because efficacy is individualized, a higher amount doesn't always equate to a better result. We recommend starting low and going slow. Dedicate time to listen to your body and assess how the active compounds of the plant are affecting you, in small and big ways. Instead of focusing on what you feel, you might want to think about what you don't feel — goodbye stress and worry!